PMP certification has revolutionized the way Projects are managed globally. It has helped many Project Managers have good knowledge of the Project Management tools, various frameworks, and Strategies. It has helped individuals sharpen their Managerial skills through hands-on experience of the concepts they've learned.
As a Facility Manager, I wondered if I should take up this PMP Certification. At that time, the asset in front of me asked, 'Hey dude, what is my PMP Score?'
'PMP for Asset, what?'
Can You Define PMP?
PMP is a valuable metric that can help identify the loose ends in an Asset's Maintenance processes. If it's appropriately tracked, it can help organizations improve their Asset Reliability and control the costs to a greater extent. It can help organizations clear different Audits and ensure the organization stays compliant.
Measured as the Ratio of the Number of Planned Maintenance Hours to the Number of Total Maintenance Hours, Planned Maintenance Percentage (PMP) helps organizations identify opportunities to reduce Reactive Maintenance, a costly affair.
Do You Mean The Number of Preventive Maintenance Hours?
Preventive Maintenance is undoubtedly a type of Planned Maintenance, but it's not the only type. Planned Maintenance refers to any maintenance activity that is Organized, Documented, and Scheduled before the Asset Failure. It's a trait of a proactive organization. The key benefits that Planned Maintenance offers include:
Reduction of Asset Downtime
Control over Maintenance Cost
Optimization of Personnel Cost
Improvement in Workspace Safety
Also, there is a type of Planned Maintenance called 'Planned Unscheduled Maintenance (Run to Failure Maintenance, in other terms),' and the best technique to adapt completely depends on the nature of the asset under maintenance, as described below.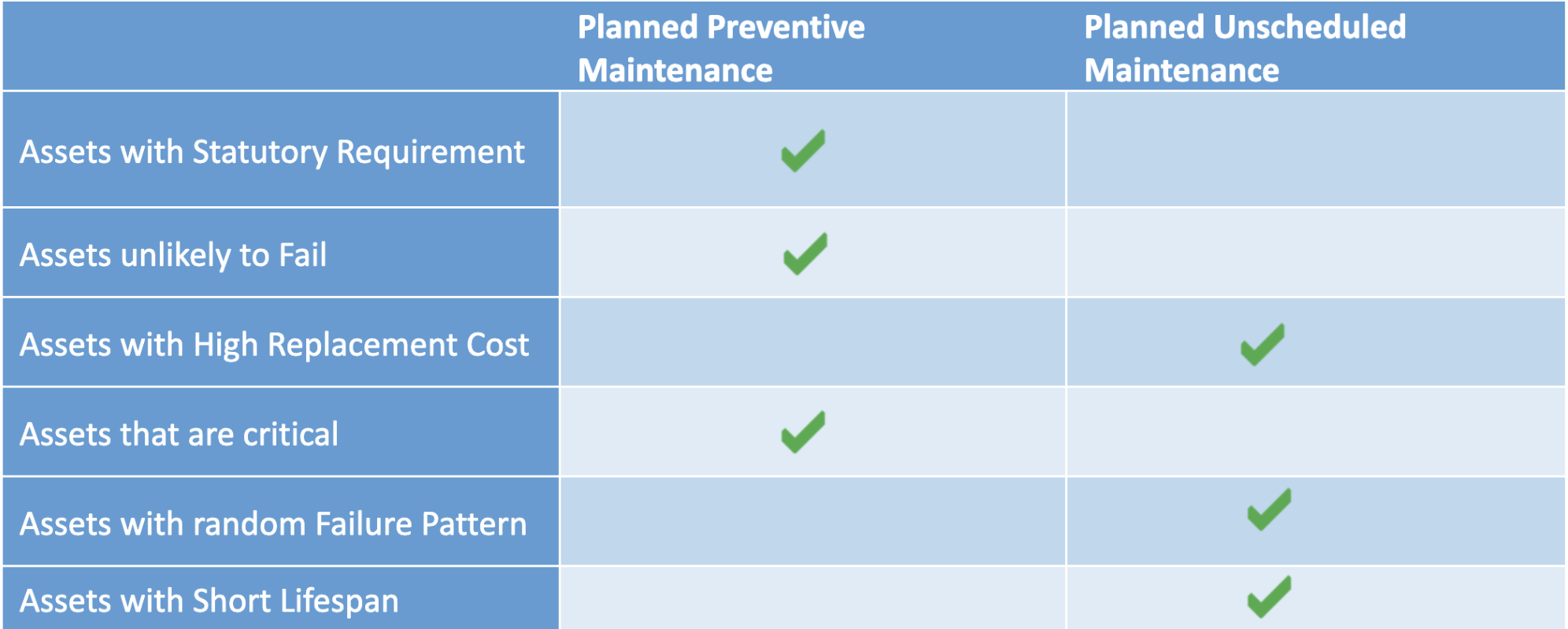 Is Your System Capable of Calculating PMP Scores?
Of course, Yes. It's just a query away in our IBM Maximo product. Work Types are modeled to classify the maintenance activities. I can use them to identify Planned and Unplanned Maintenance activities. Also, I have the labor reporting on each work order, based on which I can extract the hours of maintenance activity done in the past quarter. Also, Maximo allows me to define KPI, through which I can quickly get the PMP score right in my Start center.

So, considering the above data, your PMP Score is around 60%.
Now That I've Passed Improve My Score
60% is not a bad score, considering the possibility of variation based on the Industry sector. However, assets in organizations with best-in-class maintenance practices have a score of around 85%. So, by planning maintenance activities better, the score can be further improved. It is certainly possible by setting proper targets and tracking the same in Maximo.
Author:
Lead Product Consultant